November 19, 2012 in Special Education Articles by Jess
Shopping season for the holidays is approaching fast.  Parents (and my own family members and friends) keep asking, what are the best toys to give to their child.  When choosing toys for children it is best to see what a child is currently capable of doing and what skills are emerging rather than using strict age guidelines.  Below you will find a few great toys for infants in different developmental stages over their first year.  Each toy has characteristics to match a child's developmental stage of physical, intellectual, and/or social development.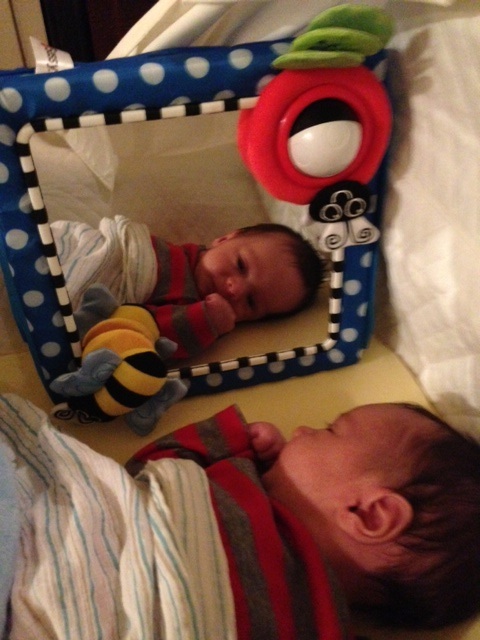 During the first few months, a child's "purpose" in play is all about sensation – to see, hear, touch, smell, and mouth.  An infant's motor skills include following objects with their eyes, responding to sounds by turning their head, or grasping an object when put into their hand.  They are interested in people's faces and voices.  Visual acuity is in the early stages of development and studies show that newborns prefer high contrasting colors (black & white patterns) but it is good to expose them to more subtle objects, like your face and eyes and their own little hands and feet.  Babies are born with a more developed sense of hearing versus sight.  They respond to familiar voices and are soothed by rhythmic sounds that mimic sounds they were exposed to in the womb, like a mother's heart beat.  A newborn's sense of touch is especially developed at birth, particularly around the mouth. As adults, we notice that babies put almost everything in their mouths.  This oral seeking behavior is not necessarily an infant's response to teething, it is often the baby's way of exploring or a means to self soothe.
Three great toys for this early infancy stage are:
Mirrors such as the Sassy Crib and Floor Mirror
Board books full of high contrast patterns like Look, Look! by Peter Linenthal
Manhattan Toys make a few great toys that are easy for small hands to grasp such as the Whoozit, which also has high contrasting patterns, little noise makers, and different fabric textures.
By four to six months more gross motor skills begin to develop like propping themselves up on their arms, placing objects in their mouth, reaching to grab objects, kicking their legs, and sitting upright.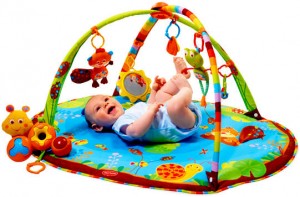 There are a variety of activity mats out there, such as ones made by Baby Einstein, that are great for tummy time and placing toys on the arcs for the baby to reach for or kick when lying on their back. The positioning of the hanging objects can be adjusted depending on how you want to stimulate these developing motor skills.
Sophie la Girafe is a big crowd pleaser!  She is easy to hold onto, safe to chew, visually stimulating with her dark contrasting spots, has a distinct sweet smell, and squeaks when squeezed.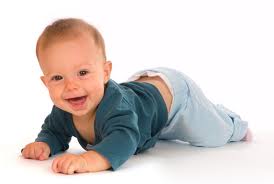 While seeking out sensations will continue to guide play throughout infancy, within a few months an infant is stimulated by starting to learn the relationship between an action and it's effect.  There are many "cause-effect" toys that will stimulate motor and intellectual skills.  As infants become more physically active you will begin to see higher level gross motor skills develop like sitting with better balance and maybe reaching outside of their base of support, pushing up onto their hands and knees and starting to crawl, pulling to stand, cruising furniture, and walking. Their fine motor and object manipulation skills become more refined, as they move on from earlier stages of mouthing, shaking, and swiping at toys to using their fingers to poke at, push, or pick up small objects.  Socially, they start to interact more meaningfully, show humor by laughing and in anticipation, and initiate play activities (show and give objects to adult).
Here is a wider variety of toys to meet an infant's developing skills at these later infancy stages:
Toy Smith's Wiggly Giggly Ball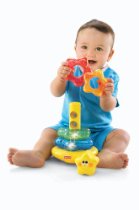 Fisher Price Star Stacker is an all time favorite of mine for new independent sitters.
V-Tech's Sit-to-Stand Learning Walker this activity center grows with your child from sitting to standing and taking his or her first steps.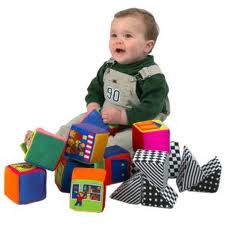 Blocks are a simple and fantastic toy for all these stages of development.  Beyond developing motor skills and eye-hand coordination to stack them, they have a cause-effect and natural social component where you build and baby knocks down causing lots of reactions and laughs!
Two suggested options for infant block play are:
B. One Two Squeeze Blocks  and IQ Baby Knock-Knock Blocks
There are so many great toys out there and these are just a few of my favorites based on all my years working with infants…and being an Aunt that loves to buy great gifts!
Enjoy & happy shopping!
Sari Ockner, OTR/L received her degree in Occupational Therapy at from the University of Wisconsin – Madison in 1998, in their extended Occupational Therapy program with an emphasis in her fieldwork studies in the scope of pediatrics. Sari began her practice in New York City and is currently living and practicing in the Los Angeles area. She has over 13 years of experience working with children with a variety of special needs in school, clinic, and home-based settings. Sari is certified in Sensory Integration Theory and Practice (SIPT) and specializes in handwriting and child development.Follow Sari on Facebook at Kidz Occupational Therapy or on Twitter at Sari_KidzOT for on-going information to support children in school, at home, and in the community. For further information visit : www.KidzOccupationalTherapy.com